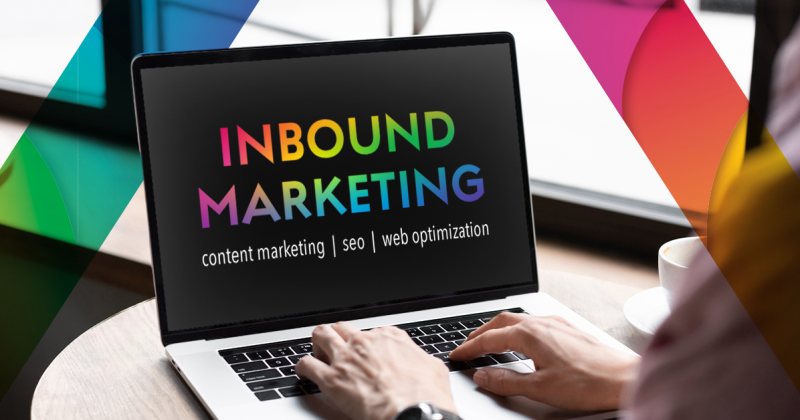 Your Guide to Inbound Marketing
Picture this—you're looking for latte recipes and head to Google for recommendations. You find a blog article with four different recipes you can't wait to try. As you continue reading, you notice the company that wrote the article actually sells organic coffee beans. As you head to their product page, you find a quiz that helps you determine which coffee flavor is best for you. This is an example of a common inbound marketing strategy.
Gone are the days of just using traditional means like print, radio, and TV to attract customers. Smart marketers are going beyond outbound marketing for a larger return on investment. To build loyalty within your community and customer base, you must consider inbound marketing strategies that prioritize creating meaningful content that aligns with your target audience's needs.
Let's put it this way–if you don't have the right answers, resources, or services for your community, why would they choose you? You need to show the value you bring and the expertise you have to stand out among your competitors. It's no wonder why 59% of marketers say inbound strategies produce higher quality leads than outbound marketing alone.
The inbound methodology
Marketers can use inbound methodology to build meaningful and lasting relationships with customers and prospects. This strategy helps you meet consumers where they are in their buyer journey while empowering them to reach their own personal goals. This method can be applied in multiple ways and has three different stages of engaging consumers.
Attract: Drawing in the right people with the right content
Engage: Offering solutions and insights
Delight: Providing ongoing support after a purchase
With this method in mind, you'll be able to move on to the next step of building out a successful inbound marketing strategy.
Determine your buyer personas
To effectively create an inbound marketing strategy, you need to identify who your target members are. And we're not just talking about age, gender, and location, we're referring to specific personas that paint a complete picture of your clients, customers, and members. Why? Personas help you figure out what type of content you need to create, how your sales process should operate, and what problems you're trying to solve.
You can have a collection of personas for your business—the key takeaway here is that you're understanding your target audience's needs and providing solutions. When developing your member personas, we recommend looking at the demographics in your social media and website dashboard. This data will help you understand your priorities and current customer base.
Rethink content marketing
When we think about content marketing, we often picture a blog or email newsletter. Sure this is an effective starting point, considering 79% of companies with a blog report a positive ROI, but marketers can dive deeper to be the top resource for their customers. Creating an editorial calendar for your blog with tips, news, and industry insights is a great first step.
A smart content strategy, though, will go beyond blogging. Depending on the industry, your customer base will find even more value in downloadable resources, webinars, videos, and quizzes. Some businesses are even creating podcasts and audio resources.
Don't neglect your website
You can have the lowest rates and the best financial products in your community, but if you don't have a good enough website to show it off, no one will even know. Not only is a dynamic website a way to generate traffic, but it's also a way to convert membership and keep long-term relationships. That's why optimizing your website and regularly maintaining it is a must. Here are some considerations when it comes to website optimization.
Mobile: Is your website optimized for mobile use?
Forms & Applications: Have you tested all your forms to ensure they're working properly? Nothing is worse than missing out on leads because your forms don't work. Is your application process overly complicated? See where people are dropping off to see how you can improve the experience.
Navigation: Is your site easy to use and navigate? Does each page have a clear call-to-action and message? If not, time to audit your website.
Accessibility: Is your site useable for those with disabilities or visual impairments? Businesses can face risks of lawsuits if they don't follow ADA compliance guidelines.
Create an SEO checklist
Without a good search engine optimization (SEO) strategy, your website likely won't get found. And without being searchable on Google or Bing, you'll see a loss in leads. SEO is crucial for building brand authority and an online presence. Why? Because many of your potential members and customers are searching for services online.
Creating and implementing a solid SEO strategy is a complicated process with many components to consider and prioritize. Moz has a local SEO checklist that's pretty detailed, but here's a run-down of the basics to get you started.
On-Page SEO: Ensure all your web pages use H1s, meta titles & descriptions, and target keywords. Link to other relevant internal pages and external resources in your content.
Off-Page SEO: Check your website load times and indexing. Consider a backlinking strategy so you can be found on other websites.
Google Business Profile: Create and maintain a Google Business Profile for all your brick-and-mortar locations.
Maintain a Blog: Blogging also has big SEO benefits—it helps you get found and builds authority on your site. Make sure your blogs are relevant to your personas and answer important questions.
Promote your content
Creating great content is the first step, but making sure it gets found is another story. Through SEO, someone can find your website content organically, but you'll need to consider additional promotional efforts to get more traffic. Search engine marketing (SEM), paired with organic SEO, can create added awareness on search engines and generate more meaningful leads. There's a lot of competition on search engines, so SEM is a great way to beat them for the top placement.
Social media is another great marketing tool that can drive traffic to your content. Not only is it an important way to connect with your members and reinforce brand positioning, but it also brings more visibility to your resources. Through social media advertising, you can choose goals and target specific people with factors like interests, marital status, life events, and more.
Thinking critically about inbound strategies is a good reminder that diversifying your marketing is the best way to reach potential and existing members. While not every strategy may work for your business, we are here to help you plan and implement campaigns that drive results. Contact us today to get started!