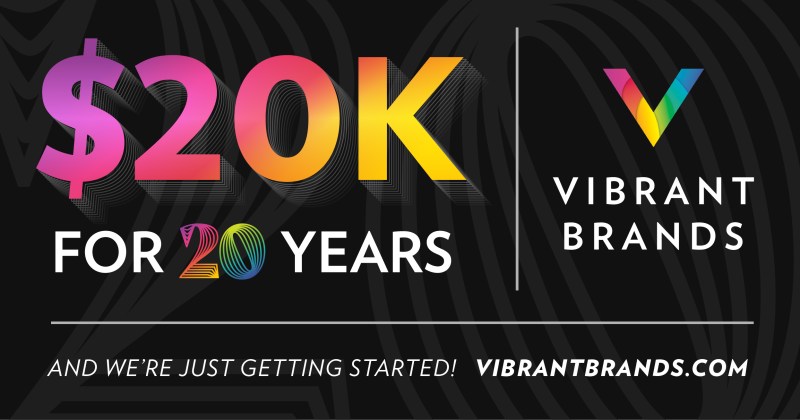 Vibrant Donates to Fight Cancer and Feed Communities
Throughout 2022, Vibrant Brands is celebrating our 20 years in business by donating $20,000 to local, national, and worldwide nonprofits through our $20K for 20 Years campaign. It's our way of saying thanks to our clients, community, and team for two decades of support, collaboration, and teamwork. Together we can make a difference!
In October, Vibrant Brands donated to:
To Life! (for breast cancer awareness month)
Vibrant's Director of Public Relations, Teresa DeLaurentiis, picked the Regional Food Bank of Northeastern NY as her October nonprofit.
"I'm an accomplished home cook, and nothing gives me greater pleasure in life than feeding people," Teresa says. "I chose this organization to support the mission of alleviating hunger and reducing food waste."
According to the Regional Food Bank, every $1 donated to the food bank provides four meals to people in need throughout 23 counties of northeastern New York. The food bank operates member pantries and partners with other organizations to host drive-thru pantries throughout its service area. Now is a perfect time to support the food bank as they work to feed families through the holidays.
Our team donated to Leukemia & Lymphoma Society (LLS) to recognize a Vibrant team member's mother who is battling the disease.
LLS is the largest nonprofit dedicated to creating a world without blood cancers. Since 1949, the organization has invested nearly $1.5 billion in groundbreaking research, pioneering many of today's most innovative treatments. It also offers free education and support for blood cancer patients and families.
In honor of October being Breast Cancer Awareness Month, Vibrant's team donated to To Life!, a nonprofit that provides personal support for those affected by breast cancer in the Capital Region. To Life! not only educates and provides support services but also helps those impacted by the disease truly thrive after a diagnosis, during treatment, and beyond. Its outreach also includes self-examination training to promote early detection.
Join us in supporting these great organizations that provide support and joy to our local communities, friends, and families.