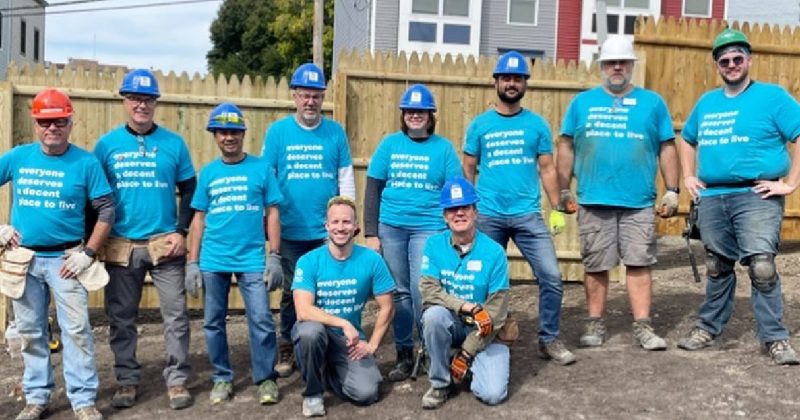 Vibrant Brands Continued Giving This January
While 2022 may have come to an end, our year of giving is still going! We continued our 20k For 20 Years campaign this month, which supports our community by donating $20,000 to local organizations here in Albany, NY. This month, our donations benefited the Capital District chapter of Habitat for Humanity as well as the Damien Center. 
Habitat for Humanity Capital District
You're probably familiar with Habitat for Humanity as an international organization, but did you know there's a local chapter supporting your neighbors in the Capital District? Founded in 1988, Habitat for Humanity Capital District has helped over 150 local families in Albany, Rensselaer, and Southern Saratoga Counties.
The organization doesn't just build homes for those in need, they provide homeowner support after the construction is done, and advocate for policies at the local and national levels that improve access to housing and the quality of life in the Capital District. As January in Upstate New York comes to a close and winter continues on, it's especially important to prioritize housing for those in our community.

Habitat for Humanity doesn't build affordable houses—they assemble homes that are made affordable by support from donations and grants. Donations like ours help ensure that the people in our communities who are in most need can continue to access affordable housing through Habitat for Humanity.
We invite you to join us in donating and supporting their efforts to promote accessible housing in the Capital District. Alternatively, you can shop at the Habitat ReStore, a storefront that sells used home improvement materials and furnishings to fund their mission locally.
Albany Damien Center
Founded in 1988 and currently located on Madison Avenue, the Albany Damien Center is the first AIDS drop-in center in the United States. Serving primarily those living in poverty or struggling with comorbidities, the center is a unique resource for those living with HIV/AIDS.
It offers services that provide support through housing, nutrition, community, employment, and access to healthcare. They employ a caring, trauma-informed, grassroots approach to all services. The staff understands the barriers faced by those who may require assistance from the Center and, in response, use a client-focused and peer-lead approach to care.
We're proud to be surrounded by such impactful organizations here in the Capital Region. It's one of the many reasons we're focusing on our community. Stay tuned for more donation updates as we continue our 20K for 20 Years!