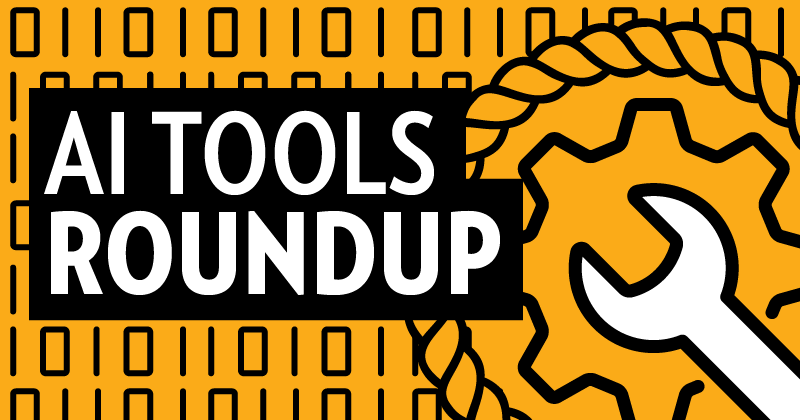 AI Roundup: The Latest in Marketing Tools
As the digital revolution marches on, so does the tools available to marketers. In the age of data, the narrative has shifted to precision, personalization, and proactive engagement, all powered by artificial intelligence. "AI" isn't just another buzzword or a fleeting trend; it's a practical tool in many marketing strategies. These tools are revolutionizing the way we connect with audiences, optimize campaigns, and gauge performance. Whether you're a seasoned marketer or a budding entrepreneur, understanding and leveraging these tools is crucial.
Here are some of the recent tools hitting the web that marketing professionals can take advantage of to streamline their work.
Narrative BI: Narrative BI streamlines and simplifies complex data sets. With its ability to centralize data sources, marketers can now seamlessly consolidate their advertising and marketing data, eliminating the need to hop between platforms. What sets Narrative BI apart is its proficiency in translating data into actionable insights automatically, without any coding intervention. And for those invested in platforms like HubSpot and Salesforce, there's good news on the horizon: soon, you'll be able to harness the power of these platforms even more, transforming data into actionable strategies.
DraftSparks: For the creators and content curators, DraftSparks is a goldmine. Whether you're looking to ignite a spark of inspiration for your next blog, poem, or story, DraftSparks has a plethora of prompts tailored for varied needs. Crafting a narrative? The Character Name Generator can conjure up unique names to populate your stories. From poetry to journaling, this tool ensures there's never a dull moment in the creative process.
Humata: Diving deep into dense technical documents can be a daunting task. Enter Humata: an AI-driven document assistant designed to make light work of hefty papers. Whether you need a succinct summary or a deep dive into specifics, Humata's AI is equipped to deliver. And for those concerned about credibility, every insight provided comes with its corresponding citation, ensuring transparency. An added perk is its unlimited upload feature, allowing you to analyze vast volumes of data without breaking a sweat. And if you're looking to integrate these insights into your website, Humata's easy embedding feature has got you covered.
HeyGen: In our multimedia-centric age, videos reign supreme. HeyGen simplifies the video creation process, transforming text into enthralling videos with the help of AI-generated avatars and voices. An outstanding feature is its real-time translation capability, ensuring your content transcends linguistic barriers and reaches a global audience.
Here's a clip of our founder and CEO testing the tool out:
ChatNode: Personalization is the name of the game with ChatNode. Marketers who design and build websites can utilize this tool as an automated chatbot you can train to answer any customer or client questions directly on the website. Imagine a virtual AirBnB host guiding guests, an e-commerce platform instantly addressing product queries, or a developer's coding assistant tailored to specific documentation. ChatNode enables this and much more. By training ChatGPT on custom datasets, it crafts chatbots adept at a variety of tasks, from summarizing lengthy board meetings to distilling insights from expansive content repositories.
At Vibrant Brands, one of our top priorities is staying on top of the latest tools and technologies that help us do our job better. By integrating AI-based tools, we're able to optimize our workflow and save our clients time and money. It allows our team more time to be creative experts and make meaningful work.
Want to learn more about how we've integrated AI? Get in touch with us today!